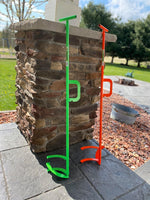 The last log grabber you'll ever need!
Made in Wisconsin!
Ships anywhere in the US free.
The Gatorgrabber is unbelievable. It clamps right onto the logs and doesn't drop them. I bought two one for the house and one for the cabin. 

Jim S.
Best time I ever had at the camp fire is with Gatorgrabber.

Steve R.
No more burned hands. This thing is the best, not sure how i lived without one all these years.

Tim W.
Loving our new Gatorgrabber from The Company Garage! Thank you! Support local.

Kristie T
Contact us!
info@getthegrabber.com
sales@getthegrabber.com